On the Internet, Anyone Can Lie About You
I run various businesses, most of which have nothing to do with casinos or gaming technology. But one of my passions is developing technology to predict roulette spins. I've been doing it for over 20 years and have been very successful.
I run the largest private team of professional roulette players anywhere. I'm well-known in the industry as casino's hire consultants to help them minimize the impact of my technology.
But unfortunately success makes you a target, and this industry is full of malicious people.
"Competitors" and people I banned from my roulette forums for scamming people, publish blatant false claims about me (Steven Hourmouzis / Natural Laboratories Pty Ltd), my Roulette System and Roulette Computers. The manipulation is extremely broad and elaborate, so here I only address the primary claims.
Exposing the false allegations is easy. But you'll need to actually verify facts to know better. For example, anyone can easily test my technology for themselves. See below for details:
Simple Ways To Assess My Technology
Take these simple options, then the nonsense written about me and Natural Laboratories Pty Ltd count for nothing:
For the ROULETTE SYSTEM (advantage play methods)
Join my free course. It explains "advantage play" and includes various free systems you can test: Free roulette course
Test my software for yourself (full version for 7-days). Validation can't be more direct: Take 7-day trial
Google "advantage play" and "roulette wheel physics". Also research "casino game protection". What casinos do to protect themselves gives clues about what worries them, and what really works
Call or visit me personally, even if only to better understand me. Contact me
For the ROULETTE COMPUTERS
See an in-person or live webcam demo on any wheel you want. Do whatever testing you want in a full day: Book a demo.
See independent test results of my computers: I sent a free computer to an independent and unbiased tester chosen by the public. They validated my claims. See their report.
Aim a webcam at any wheel via Skype (including live online casinos), and I'll predict the spins with my computers. We can do this for a whole day on any wheel you want. Request a demo.
Watch numerous secretly recorded videos of real casino sessions from players (with player permission). You even see the roulette computer's software track the wheel location with computer vision technology, and automatically track the ball and green zero, then predict the spins. Book a demo to see.
Watch LIVE video of a real casino session with our players (requires the player's permission first). Book a demo to see.
Join my private teams and pay me $0.00 up-front. Pay only based on the performance of the computers: See details
People attacking me don't mention these options, because they easily reveal the truth. Alternatively, waste days studying elaborate manipulative information and you still wont know what's what. If you prefer to read all irrelevant details, you'll need to carefully read this entire site to better understand the overall picture.
If Prefer Irrelevant Details, Instead of Testing For Yourself:
If you're interested all the irrelevant yet manipulative claims about me, understand this:
Most of the false claims are a deliberate distortion of facts to make the claims appear credible. But a lot of the claims are blatantly false. The truth is easy to determine with proper research. If you believe the first thing you read, you'll be misled. You'll need to read this entire website to understand the bigger picture.
I've wasted enough time on this nonsense. Don't waste my time asking about it. Any serious player can test my roulette computer or system before buying.
I have over 1,200 players, and the vast majority agree my claims are accurate. But not every player succeeds, and some blame the system instead of themselves. Less than 1% of players have ever made baseless claims that my computers or systems "don't work". Most of these players have since apologized to me after learning better, but their unjustified claims remain on competitor's websites.
My integrity has been openly discussed on my player forum many times before. If I was running a scam, the last thing I'd do is create a forum for "victims" to collaborate. Once you

get to know me better, you'll see I'm a fair and honest person.
Public & Independent Test Results
To once and for all set the record straight on relevant matters, I conducted the various public validations explained below. But still the best proof you'll get is just testing free for yourself.
1. Public Demonstrations of my Roulette Computer
2. Roulette System Lab Testing
3. Independent Testing from Well-known and Respected Roulette Player
4. Providing Part of My Roulette System for FREE Evaluation
5. Live webcam testing with Tony Duhamel (Bago)
6. I already have every other system that works
1. Public Demonstrations Of My Roulette Computer
IN-PERSON PUBLIC DEMOS: In this public demo with numerous witnesses, I demonstrated a 93% win rate betting 15 numbers on a modern wheel with bouncy ball, with predictions much earlier than most roulette computers are capable of predicting. This is over a 120% edge. I achieved a win on almost every spin and in difficult conditions. Full data is shown to prove the accuracy is not luck (NOTE: Betting 15 numbers is the ideal situation, although we could have easily bet only 1 number).
OTHER PUBLIC DEMONSTRATIONS: I conduct many public demonstrations, but not everyone can travel to visit me, so I also conduct live webcam demos. See one of my live webcam demonstrations. which was witnessed by 40 people live. In this demo, predictions were about 15 seconds before the ball falls. The calculated edge was +28% although much higher is possible with more advanced settings.
See roulette strategy and computer demos, and learn more about roulette computers. Winning roulette is not as impossible as you may assume. Read my article about how to win at roulette here which explains basic facts.
2. Roulette System Lab Testing
Part of my roulette system was tested by a qualified physicist with a background in gaming. Although you don't need formal qualifications to know my system is effective, a qualified physicist is best suited to assess the significance of the results. My roulette system is the only one to ever have been properly tested in real casino conditions:
Download the test report (PDF)
The application of the system produced positive results. But most importantly, the analysis of the wheel analysis itself indicated my methods are effective. So this is not just a profit/loss test. It is an investigation into whether or not my wheel analysis method actually assists to predict where the ball will land. If we considered the profit/loss result alone, this doesn't prove much because any system can win in the relative short term. So we needed to consider the effectiveness of the analysis and how it correlated to the actual spin results.
While the results are clearly positive, the reporter doesn't conclusively say whether or not my methods are effective. He simply states the probability that the results were due to coincidence. And the probability is clearly in my favor. Such test reports don't get more conclusive.
This testing was primarily done because I trade as a corporation, therefore I must adhere to strict ethical trading practises and be honest about my products. This is why scammers almost never trade as a corporation. So I had this testing done in case the legitimacy of the genuinewinner.com roulette system was ever questioned. Government authorities have asked me to verify the accuracy of my claims once, and the matter was promptly settled once I provided relevant material. Because I run an honest business, my corporation has existed since 1999.
3. Independent Testing From Well-known and Respected Roulette Player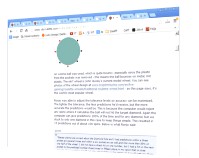 Not everyone is able to visit me for a personal demonstration. So I had my roulette computer openly tested by a well-respected, trusted and neutral member of the roulette forum community who everyone knew would give an honest evaluation.
The requirements of the person doing the test were:
Competent and knowledgeable enough to conduct testing. The tester needs to understand how to conduct proper testing
Well known and widely trusted. The purpose of the test is for a widely trusted individual to report findings.
Initially the roulette community chose two particular individuals who were both sent a free roulette computer for testing, but neither had time to do the testing. So the computers were sent back, and everyone selected another individual named Ronjo.
The full forum thread with all details of the public demonstration is at www.rouletteforum.net/cgi-bin/forum/Blah.pl?m-1220826187/ – it is a long read but you can read the summary of Ronjo's findings below:
Ronjo's Comments About The Testing:
Steves claims are correct about the Diamond hits and I had predictions within a three pocket arc several times and within a six pocket arc as well,and hits more than 50% on one half of the wheel. I did not have a direct hit on one number, but I had a hit on the next pocket to the predicted number three times in fifteen plays,in my opinion that is close enough. So to recap in fifteen spins I had a three pocket arc hit three times, a seven pocket arc hit five times the rest were losses or they were out of the three and seven pocket range but in half the wheel. This pattern kept on repeating in my testing.

Steves explanation is correct on my testing. The different diamond test was done and is correct and that the prediction was within a three pocket arc, the first spin and several others as the sample spin gets updated and deals with errors, as below as per quote that there were no predictions as the tolerance got tighter which is better than getting a poor prediction. I tested the whole DVD and as the sample was updated I got the same results. I was very impressed with the accuracy of the predictions, where I got predictions in a three pocket arc and a seven pocket arc and over 50% of half the wheel within the three pocket arc.

facts are facts and some people find it a problem to accept them.

everything Steve says in his explanation is correct.you guys need to read his post carefully as it must be kept in mind that we only focused on one particular diamond and we are getting a 1 in 5 hit rate and it was not only the fifteen spins that has been mentioned, this pattern repeated over the 100 spins and was consistent.

everyone, Steve is no scammer and has contributed a lot on RR a few years back and helped me a lot.
Competitors attacked and attempted to discredit Ronjo on public forums, to which Ronjo responded:
I do not want to get involved with discussing Steve's methods and it is very simple to answer your question above, even if you had the spins there is nothing you can do to prove anything, as you are going on hearsay and not on personal experience with Steve's material, and a possibility of incorrect application of certain methods by so called users of Steve's material. I can assure you that what I tested was legit, and keep in mind that I was testing on one particular diamond for testing purposes, I could have tested any other diamond but we tested only one,and the test was not to test predicted numbers but only a diamond,and sorry to say the test was accurate.

And to cap it all, Steve Hourmouzis put me in contact with one of his players here in my country and we met up and discussed the computer and he was getting very good results. I can not let out what we discussed, but I can tell you that you would have to be very serious about playing this way and if applied correctly with timing in placing your bets you would do very well, thats all I can tell you.

So unless you have had first hand experience I think it would be wise and best to stay out of the politics concerning Steve's computer. So guys let's let the man get on with his business,and unless you have the computer let's get on with this challenge. Jackal check this out my testing is there read it carefully.

I just wish people would get their facts first before attacking people, just like in the case with Steve, a number of people have asked me for the spins Steve supplied me,but I have done what Steve asked and I am not going to say anymore about the testing as that has been finalized already, I have been insulted by being called stupid. As I have said I have met up with one of Steve's players and he is not this imaginary player we have created, he is for real, and we have results from real casino plays and discussed the computer in length and I am satisfied if applied properly we have a good edge against the casinos and that is final.
Basically Ronjo verified that my claims about my roulette computer are accurate. His testing settled the matter for just about the entire roulette community who attended the roulette forums.
I plan to conduct a similar public validation on the gambling forum at gamblersforum.com.
About The Testing That Was Done
I sent Ronjo a DVD of approximately 100 spins from a current model roulette wheel. He selected one diamond, then set the computer to give predictions only when that diamond was predicted to be hit. Of course the computer can give predictions when any diamond is predicted to be hit, but for testing purposes it is best to just focus on one diamond.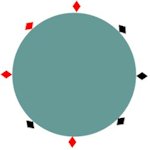 The wheel used is a mk7 huxley (current model), and there are 4 dominant diamonds as shown left. The red diamonds are the dominant diamonds. Three of them are vertical diamonds, and one is horizontal. It is important to note the dominant horizontal diamond is right between two dominant vertical diamonds. This ensures things aren't easy like it would be if there was a single dominant vertical diamond because when a horizontal diamond is hit, the ball is typically deflected to the other side of the wheel where the ball may hit another diamond. This condition perfectly represents not merely "average" modern roulette wheels, but wheels that many "experts" consider to be impossible to beat.
An ivorine ball was used, which is quite bouncy, especially since the plastic from the pockets was removed – this means the ball bounces on metal, not plastic. The mk7 wheel is John Huxley's current model wheel. You can see photos of the wheel design at http://www.tcsjohnhuxley.com/en/live-gaming/roulette-wheels/traditional-roulette-wheel.html – as this page says, it's the world's most popular wheel.
Ronjo was able to adjust the tolerance levels so accuracy can be maximized. The tighter the tolerance, the less predictions he'd receive, but the more accurate the predictions would be. This is because the computer would reject any spins where it calculates the ball will not hit the target diamond. Again the computer can give predictions 100% of the time and for any diamond, but we stuck to only one diamond in this case to keep things simple. This resulted in 15 predictions out of about 100 spins. Below is what Ronjo said:
Steves claims are correct about the Diamond hits and I had predictions within a three pocket arc several times and within a six pocket arc as well,and hits more than 50% on one half of the wheel. I did not have a direct hit on one number, but I had a hit on the next pocket to the predicted number three times in fifteen plays,in my opinion that is close enough. As personally I would not play one number in the casino as it could cost you if you are on a losing streak. So to recap in fifteen spins I had a three pocket arc hit three times, a seven pocket arc hit five times the rest were losses or they were out of the three and seven pocket range but in half the wheel. This pattern kept on repeating in my testing.
The probability of this merely being coincidence is literally 1 in 10,000. So for all 15 spins, the ball landed on the same half of the wheel as the prediction. This means the ball always landed within the predicted 18 or so pockets, including all factors such as diamond hits, scatter etc. While 15 spins is not a large number, you have to keep in mind the computer was set to give predictions only when a specific diamond was predicted to be hit, within whatever tolerance range he set. In a real casino environment, if you bet on every spin, it is too obvious. So it is better to make small diversionary bets to stay at the table, and on those 15 spins when a prediction is given, you bet large.
In the tests done by Ronjo with the ball landing on the correct half of the wheel every time, the results are very clear. Additionally, Ronjo verified the computer announced "risk" when the target diamond was not hit. This is an important part of the testing because it was done over approximately 100 spins, so clearly the results are not due to luck. Ronjo has confirmed my claims about the diamond hit predictions are true.
The test with diamond isolation (predictions only when a diamond was predicted to be hit) verifies my computer is capable of determining which diamond will be hit, and that it is capable of accurate timings – his findings clearly refuted the false claims about my computer being unable to accurately process timings, or that it gave "random" predictions. The computer can give predictions for any of the diamonds, but for testing purposes it was more appropriate to just choose one diamond and focus on testing for that diamond alone. With respect to the equipment's ability to deal with human errors, Ronjo confirmed my claims about virtually all predictions being within a 3 pocket arc (maximum accuracy) for the different diamond test explained by Forester.
This Is What Ronjo's Testing Proved:
1. The computer is capable of determining which diamond will be hit clearly the majority of the time. On the mk7 wheel it can predict exact diamonds, but on the mk2 wheel it can predict within 1/3rd of a diamond.
2. Out of the spins where the computer determined a particular diamond would be hit, on all spins the ball landed on the same wheel half as the prediction. This is not a minor thing – others may be happy when the rotor strike point alone is predicted within 18 pockets accuracy. With Ronjo's results, it is with scatter and all incorporated. Even if we just considered 15 spins without consideration to the total 100 or so spins, the results would still be statistically relevant because of how close to the winning number the predictions were. But again you also consider the diamond hit predictions over the 100 spins.
Putting the results into perspective, since all predictions were in the correct half of the wheel, on average this is the equivalent of approximately a 1 in 10-15 exact number hit rate. This means if you bet on just 1 number, you can expect to win approximately 1 in 10-15 spins (on average). As per Ronjo's statement, of the 15 predictions he received, he may not have gotten any direct hits, but on 3 from 15 spins the ball landed directly next to the predicted number. You can expect much the same results on modern wheels in casino conditions, where other computers achieve near random results.
None of the above would be possible if the hardware and software wasn't capable of accurate timings. This is the main point that clearly refuted false claims that mobile phones cannot process accurate timings. Also if you consider the wheel and ball used, the ball track distortions which decrease accuracy, and the relatively even spread of diamond hits, then you'll understand it's not like we used an easily beaten wheel – it is a wheel that others say cannot be beaten. Yet the wheel was more than just "beaten". Perhaps most notable is the target diamond was right next to a dominant horizontal diamond which made targeting the correct diamond much more difficult than real casino conditions, and still the results were clear.
The results Ronjo achieved were also without using the most advanced features, such as those that better manage ball bounce on different rotor speeds. All Ronjo looked at was the basics of accuracy for diamond hits and end predictions. The end predictions part is most relevant of course, but again you need to consider accuracy of diamond hits which tells us a lot about computer capabilities.
In addition to Ronjo's official statement, he also said:
Steves explanation is correct on my testing. The different diamond test was done and is correct and that the prediction was within a three pocket arc, the first spin and several others as the sample spin gets updated and deals with errors, as below as per quote that there were no predictions as the tolerance got tighter which is better than getting a poor prediction. I tested the whole DVD and as the sample was updated I got the same results. I was very impressed with the accuracy of the predictions, where I got predictions in a three pocket arc and a seven pocket arc and over 50% of half the wheel within the three pocket arc.
4. Providing Part Of My Roulette System For FREE Evaluation
I provide a free course that teaches visual ballistics roulette system and bias analysis to beat roulette. These techniques are globally recognized as effective. I teach them for free because I want you to see what I teach is real, and besides my system is far more effective and practical.
This below video is a only part of my free roulette system course. All my strategies use flat bets, so bets are all the same size. Betting progression (such as increasing bet size after losses) is never required. You can subscribe to the entire course from start to finish by submitting the subscription form on the right side of this site.
5. Live Webcam Testing With Tony Duhamel (Bago)
Tony Duhamel is a young man who purchased my roulette computer. He incorrectly used it at home in front of his TV, but would not accept the poor results he obtained were due to improper application. He refused my support calls to help him because he couldn't speak English well enough. He never used the roulette computer in a real casino, although he profited $4000 from a non-electronic system I taught him. Nevertheless, he made public false claims about my computer that were refuted in a public challenge I conducted with him. Specifically we did testing of the roulette computer via live webcam. Everything was recorded because I expected he would misrepresent the results, as he did. Specifically he falsified the results and published an edited the recording of the tests. However, I published the full unedited recording so people can see the truth. This inadvertently embarrassed him, so he now has a personal vendetta against me.
Learn more about Tony's false claims | See results of the testing with Tony
6. I Already Have Every Other System That Works
My "attackers" will praise some techniques from other system sellers (because they don't also sell roulette computers), but they wont tell you I already have those systems and "could" simply replicate them. After all, if my system was a scam and didn't work, why wouldn't I just copy the better systems? I don't need to do this because my systems are by far the most effective and practical for modern casino conditions. I have acquired countless other systems to see if anything can be learned. Below is a fraction of what I've acquired over the years: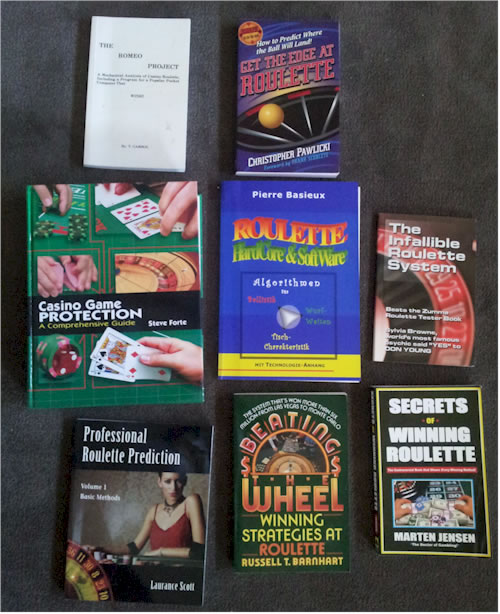 Not all have value, and in fact most don't. Anything that could be learned from them has been applied in my systems so you know I always teach the most effective methods to beat roulette. But I can honestly say there is virtually nothing in this material that I didn't already learn for myself.
The only methods from others that I have ever taught are a particular technique from Laurence Scott. I give him due credit in my written material, but the technique itself is not suitable for modern conditions and is taught only to give my players some background knowledge of visual ballistics.
My own research is far more extensive than that of any other roulette player, but below is a list of some of my resources from others:
Laurence Scott: I have both of his volumes and his software. His main technique is very similar to the free visual ballistics course I teach. The software is useful but does nothing my software cant do. I respect Laurence but the techniques in his material are unsuitable for modern conditions.
Pierre Basieux: Pierre is a VB player who charges $5000 for techniques I teach for free. His book is written in German so needs translation. Ultimately it is very similar to Laurence Scott's material.
Casino Game Protection by Steve Forte: This is a very large book written for casino staff to "protect" their games from professional players. It's an interesting book for both casino staff and players, but it deals with older techniques. The sections on roulette are mainly about visual ballistics, bias analysis and roulette computers, although very basic information is presented. My websites provide a much more extensive explanation.
The Romeo Project: This is a book that explains one group's efforts to develop a roulette computer device. The algorithm they present is almost precisely the same as the typical roulette computer algorithm explained on roulette-computers.com (click here for the typical roulette computer algorithm – it is basically much the same as visual ballistics). Every roulette computer uses much the same algorithm, with the exception of my Uber and Hybrid models (see www.roulette-computers.com and www.hybridroulettecomputer.com)
Don Young's Infallible System: A high profile system that will only ever work if the wheel is heavily biased. Ultimately it has next to no merit.
Various roulette computers from other developers: I currently have 5 different computers from other vendors, and every one of them relies on the typical roulette computer algorithm. You can see virtually any other device compared to mine in person if you visit me.
Again this is just some of the material I have acquired, and I have never found any other material that is suitable for modern casino conditions. My players have also sent me countless other systems for free, although I wont mention further product names.
While it should be expected that a vendor will claim their product is best, consider the following:
I often acquire new and potentially effective systems, although every one of them to date is unsuitable for modern conditions. There is nothing that anyone teaches that you can't already learn from me.
Although other vendors may claim to have my techniques, they don't as it isn't possible. My system is ultimately used only by software that is accessible via roulettephysics.com, which is well protected as the program itself resides on a hidden server. The only material I publish is called the "primordials" document, which is essentially a collection of very basic methods that are used to teach background knowledge to new players. The primordials document is available free from my website, but the techniques within it are nowhere near as effective as my wheel analysis software. So if someone claims to "have" my system, you can be certain they are either referring to my "primordials" document, or are making dishonest claims. I have never, and will never, release the secrets of the software to anyone. It is the only way to ensure its security.