This is regarding a legal case referred to by Mark Howe on his various websites. Mark Howe makes blatantly false claims about the case.
THE SHORT STORY: Vince is a roulette system purchaser. Contrary to Mark's false claims, Vince's legal claim had NOTHING to do with the effectiveness of my system. Vince simply didn't understand instructions to access my system's software, so absurdly claimed it "didn't exist".Vince was extremely rude and vile in his emails to me, so I asked him to hire a mediator. That way I didn't need to put up with his abuse. So he did, and that's what the case was. In the mediation, he couldn't act like a child, and I agreed to giving a refund. He never even used my system. Vince lost on all but one of his claims, so he started another case, which was completely rejected by the judge. The case was so ridiculous that I didn't even attend, and still won. Vince got upset, so he sent a bunch of UTTER BULLSHIT to Mark Howe to post on his websites, and twist the story all he liked. Full details are below.
For almost a month after being given access to my software, Vince didn't contact me, so I assumed he had no problems. Then he began sending me abusive emails claiming he didn't understand the instructions. So I asked him to stop sending abusive emails and call me to resolve the issue, OR to hire a mediator. He continued to send abusive emails and refused to call me, so I insisted he hired a mediator which he eventually did.
Vince's claims to the mediator were broad and absurd, including reimbursement for services he did not provide receipts for, and enormous fees for his "self-representation". His main claim was he paid me for software that he believed "did not exist".
I provided the mediation member with:
Login access and instructions for my software (using Vince's login)
Statements and contact details of players that use the software (with their permission)
Copies of all emails between Vince and myself
The mediation member clearly saw Vince's claims were nonsense. Fortunately for Vince I was honest and explained to the mediator that Vince hadn't actually used the software yet, and I could cancel his access anytime. So I agreed to give him a refund and considered the matter resolved. The result was formally released as a judgement, and this is what Mark Howe publishes on his website as if it were proof my technology is ineffective.
Vince didn't accept almost all of his claims being rejected, so he initiated other precedings that failed. Shown below is the result of the latest case. I did not attend this hearing because his claims were so outrageous that I was sure his case would be rejected, which it was.
So all that happened was:
1. Vince didn't understand the software download instructions, and sent me abusive emails.
2. I asked Vince to call me personally so I can offer support, but to not send me abusive emails OR I will only communicate with him via a mediator (VCAT)
3. Vince ignored my request. He did not call me for help, and continued to send abusive emails.
4. I asked Vince to hire the VCAT mediator, which he did.
5. In mediation, Vince was forced to speak without abuse. I explained to the mediator that Vince had not accessed the software yet, and I agreed to provide a refund.
6. The result of the case was released via a letter, and Mark published the letter and lied about what actually happened.
7. All other claims by Vince were rejected, so he attempted another case. I did not even bother to attend the hearing because I knew he had no grounds for his claims, and that his case would fail, as it did.
Vince now appears obsessed with trying to harm me. He has made threats against myself and my extended family members, and even my two of my accountants that have nothing to do with this.
False Claims About This Matter
Mark Howe published his own version of these matters. Below are a few points:
Mark's false claim: The FBI were involved, and it was a federal case in a court of law.
The truth: It was nothing even remotely "federal". It was a civil mediator I asked Vince to hire because I wouldn't tolerate his unjustified abuse, and knew he'd behave himself with a mediator. Read the correspondence between Vince and I below on this page.
–
Mark's false claim: The courts found my business address to be falsified
The truth: Complete nonsense. My company address is publicly available in the ASIC database, and this is how I was notified about the hearing.
–
Mark's false claim: A private investigator found that I was homeless and destitute with no money, and that in the hearing I was forced to admit this. I apparently told Vince I wouldn't refund Vince even if I could afford it. And that the police seized some of my money from roulette scams.
The truth: There is not a shred of truth to this claim.
–
Mark's false claim: My wife was included in the claim and was liable to pay half.
The truth: The document Mark published clearly states the "second respondent", which is my corporation. The tribunal member specifically stated Vince had no valid claims against my wife or myself. My wife didn't attend the hearing.
–
Mark's false claim: He is leading a case of 50 people I apparently scammed
The truth: Mark has claimed this for many years but out of over 1,000 players I have had over the years, less than 10 have ever had a problem with my technology (through their own misunderstandings). Nevertheless, if such a "class action" occurred, many of my successful players would appreciate the opportunity to provide testimonies for both my non-electronic system and roulette computers, and I would gladly demonstrate my technology to any authority.
Correspondence Between Vince and Myself
The majority of emails from Vince contain vile threats of violence against my family and I, and foul language. It is not necessary to provide them all. Below are the most relevant emails between us so you can better understand why I insisted he hired a mediator:
NOTE: Red text is from Vince, and Blue is from myself, and Grey text is comments I added. Pay particular attention to the dates as Vince sent numerous emails on the same days.

——————— 12th March 2013:
From: Vince
To: Me

I sent in the payment but havent heard anything yet. Can you let me know how I get access to the software.

NOTE: At this point, Vince sent payment but it had not yet arrived.
——————— 13th March 2013:
From: Vince
To: Me

When do I get access. ertc.,etc, etc., etc, or diod I just get scammed again..Shit I hope this kisn;t just another scamjon fuck what the fuck!!!! I can;lt contacnt ahyone..icant; get througfh ont he phone numner pprovided…Just a bunch of geek computer bullshity fuck skype yeah right jesyu chrtist i hjyust got fucked sedn emails thast noone answqers hjoly shit what a bunch of shit fuckled agaqin
From: Vince
To: Me

Hello is anybody out their or is this just another scam?
——————— 14th March 2013
From: Me
To: Vince

go easy, no your havent been scammed. im just behind on work. everything will be sorted today
From: Me
To: Vince

READ THE FOLLOWING INSTRUCTIONS CAREFULLY!

STEP 1. DOWNLOAD THE PRIMORDIAL VARIANTS (THE BASICS) DOCUMENT AT:
www.genuinewinner.com/XXXXXXX (file hidden)
(If you use MAC, you can use a PC emulator to open the document. Or just buy a cheap PC and use windows 7). The EXE is the document file with viewer. Your downloading and registering of the document is subject to the agreements at http://www.genuinewinner.com/terms-of-service/ – read them thoroughly so you understand your obligations. If you do not agree, do not register the document.

The document will not load if some types of software are running on your computer, and it may automatically close some software, such as image capturing software. An error may appear saying certain software is conflicting. You need to identify this software and make sure it isnt running, or the ebook wont load. Sometimes although rarely, firewalls can interfere with the document viewer. You should have the bare minimum software running on your PC.

STEP 2. When you open the EXE file, you will need to register a username and password (or login if you already registered). Your username MUST be your email address that you purchased with, or at least the one I have on file for you.

STEP 3. Login to the document with your newly created username and password. You will then be shown a "user number". This identifies your PC. Submit this code at http://www.genuinewinner.com/support/ then I'll unlock the document, and email you when done.

STEP 4. Login to your software account at:
xxxxxxxxxxxxxxxxxxxxxxxxxxxxxxxxxx (address removed)
Click the "Signup" link at the top left. Select the "Players only" account, enter your email, then click "continue". If you already had a free account, let me know and I'll manually change the account type. Often I'll create your account for you, and if this is the case, you will just be emailed the username and password.

NOTES:

* Your email address is already verified but if it isn't, please email. REMEMBER YOUR LOGIN DETAILS AND KEEP THEM SAFE.

* Your login details are CASE SENSITIVE

IMPORTANT:

* If you get an error saying you need to install the NET framework or something similar, then visit http://www.microsoft.com/net/download to download and install this part.

* If you open the ebook and get an error saying "Navigation is cancelled", this has nothing to do with the ebook. The cause and solutions are explained at http://support.microsoft.com/kb/967941 and http://blogs.msdn.com/b/crminthefield/archive/2011/02/21/quot-navigation-to-the-webpage-was-canceled-quot-error-is-displayed-when-trying-to-open-and-view-the-microsoft-dynamics-crm-2011-implementation-guide-ig-chm-file.aspx

Check all the solutions on these pages carefully as they fix the issue for everyone.

* You can only register the document on one computer

* You must be online to register and unlock the document.

* For security reasons the document cannot be printed or opened from another computer. If you want to print the charts, download www.genuinewinner.com/XXXXXXX (file hidden) although they are only for primordial 1, which is for the least effective of all the methods. Most players start with primordial 3.

PLEASE HONOR THE AGREEMENT YOU SUBMITTED AND REMEMBER A BREACH OF THE AGREEMENT MEANS YOU WILL NOT RECEIVE ANY ONGOING SUPPORT INCLUDING SOFTWARE ACCESS. A BREACH OF THE AGREEMENT INCLUDES DISCUSSING THE SYSTEM WITH ANYONE ELSE – WE WANT TO PREVENT INFORMATION LEAKS TO CASINOS SO THERE IS ZERO TOLERANCE FOR UNAUTHORIZED DISCUSSION. DO NOT IGNORE THIS WARNING. MAKE SURE YOU READ www.genuinewinner.com/terms-of-service/ SO YOU UNDERSTAND YOUR OBLIGATIONS.

The system IS for real – you are now one of my players and I want to get to know you and ensure your success. You have my personal attention and support so take full advantage of it. If you need any help, please let my know but please read the system thoroughly before asking questions.

Please follow the rules precisely and bet small to start while you're learning as we would like to see you profit. If you are unable to profit from my system at your casino, it is best that you change casinos. However a large part of what you've paid for is my support, so if you can't make it work at your selected casino, contact me for assistance.

Thankyou again for you becoming a player.

Management
Roulette Wheel Analysis Group
www.genuinewinner.com
www.roulettecomputers.com
www.hybridroulettecomputer.com
www.roulettetraining.com
ACN 090 739 754
Ph. +61 3 9018 5395 (Australia, +10 GMT, 9am-5pm)

PS – The player only forum is at http://www.genuinewinner.com/forum/ – you can freely register, but use ONLY the email address you used when becoming a player. After registering, email me and request access to the relevant board, and I'll manually add you to that group. You'll then be able to access the correct boards. Make sure you understand the forum terms at http://www.genuinewinner.com/player-forum-terms/ BEFORE signing up.

NOTE: To access the software, all Vince needed to do was enter his email address at a web form for his login details. It appears he didn't bother to read the instructions because the process is not complicated.
——————— 22nd March 2013:
From: Me
To: Vince

if you still havent received it, please submit the payment registration form
——————— 23rd March 2013:
From: Vince
To: Me

REQUEST UNLOCK Primordial Document (system)
Name: Vince Brandt
FromEmail: XXXXXXXXXXXXXXXX
Key: UNLOCKKEY

NOTE: This is Vince's form submission where he requests unlocking of the software's instructions. Within 24hrs I unlocked it.
——————— 4th April 2013:
From: Vince
To: Me

Look dude I'm done with the clicking around, forms, wild goose chases, directions that don't make sense, passwords that don't work, etc. Your website is a fucking mess. Get me reasonable access to the spin software or send my money back. This process has been an absolute nightmare (which maybe you intended it to be this way so people would kind of give up?) Either way I don't care. You said I would get software and I don't have software, just a fucking headache dealing with your fucked up website. I would strongly recommend having an independent end to end review done of your website. (Have you ever been in someone's house that really stinks but they don't think it stinks because they're so used to it). Need to hear from you asap.

NOTE: Vince did not understand the instructions and abused me for his misunderstandings.
From: Vince
To: Me

I sent my money on 3.7.13 and to date I still don't have dick other than wasting a huge amount of time on fucked up websites, ebooks and nonsense. I had to wait over a week to get access to a fucked up ebook which is nothing more than a pointer to another website. Then you have to sign up on some fucked up forum and still don't have access to the software. Then you click to links which tell you to submit a code but you don't have the fucking code because you don't have access to the fucking software.holy fucking shit.who designed this process some kind of fucked up retard? Fuck. I've never seen a more fucked up process in my whole life.what an absolute emotherfucling mess. OK I need my money back or immediate access to the software or I get out my toolbag and start to unload a fucking shitstorm.no more software bullshit.the software otr the money you fucking douchebag motherfucker
From: Vince
To: Me

Almost two mother fucking months and I still don't have fucking dick.Mother fucker. I knew this was a bunch of mother fucking geek IT bullshit Fuck!!!!!!!!!!!!!!!!! Clicking around like a fucking retard wasting fucking incredible amounts of my fucking time .Mother fucker!!!!!!!!!!!!!!! You fucking dick in the mouth..Fuck!!!!!!!!!!!!!!!!!!!! What a fucked up bunch of fuckingbullshit.Fuck!!!!!!!! !!!!!!!!!!!!!!!!!!!!!!!!!!!!! !!!!!!!!!!!!!!!!! !!!!!!!!!!!!!!!!!!!!!!!!!!!!!!! !!!!!!!! !!!!!!!!! !!!!!!!!!!!!!!!!!!!!!!!!!!!!! !!!!!!!!!!!!!!!!!!!!!! !!!!!!!!!!!!!!!!!!!!!!! !!!!!!!! !!!!!!!!!!!!!!!!!!! !!!!!!!!!!!!! !!!!!!!!!!!! !!!!!!!!!!!!!!! !!!!!!!!!!!!!!!!!!!! !!!!!!!!
From: Vince
To: Me

I want immediately to either have access immediately without any more nonsense or your bullshit website or my money back immediately. If I get any more bullshit from you you fucking little fuck I'm reaching out to my Autralian friends to come see you you fucking rubberbeck motherfucker
—————————– 5th April 2013 (all of below):
From: Me
To: Vince

Vince, after the unjustified abuse you've hurled at me, I would normally say I'm not dealing with you further and I'll only communicate with you via a mediator. It is within my legal and moral rights to do this because nobody should take such abuse and threats. However, I'm asking that you call me and speak to me like a grown-up man. For my contact details, see www.genuinewinner.com/contact/ – this page also has details on the best times to call, my local time, when I'm available etc. Also see my blog for my schedule.

NOTE: When you are in contact with literally thousands of people, it is expected that sooner or later you'll meet someone who is needlessly abusive. Nevertheless, I wanted to speak with Vince personally so he could hear my voice and understand I'm sincerely trying to help him, and there is no need for his behaviour.
From: Vince
To: Me

You think you're gonna rip me off motherfucker with your fucking geek ass motherfucking IT fucked up website mother fucker you got another motherfucking thing coming motherfucker.I will fuck you up you fucking shit
From: Vince
To: Me

OK my Australian contacts are telling me they'll have a line on your physical location in a few days. Go ahead and try and fuck with me and see what happens you little fucking jerkoff.
From: Me
To: Vince


Ok, officially now I'm asking you not to contact me again unless through a mediator. Any further direct contact from you will be considered harassment and may be reported to the police.
From: Vince
To: Me

You fucking little faggot. I better have my fucking money back immediately or I'm going to send you a fucking mediator you fucking faggot and he'll mediate your fucking head you fucking jerkoff you better start looking over your shoulder motherfucker you think your gonna rip me off you have another mother fucking thing coming mother fucker..i will make it my lifes work to fuck you up..i will fuck you up
From: Vince
To: Me

Call the police you fucking faggot and give them my phone number so I can tell them how you're ripping people off you fucking scumbag
From: Vince
To: Me

I got somebody coming out to Wellington St. to say hello motherfucker.better start watching your back motherfucker.we'll have your house address shortly.If I were you I'd just simply send money back you stole from me or we'll take it out of your fucking ass either way is fine with me fucking jerkoff..we'll see you soon

NOTE: He is referring to the address of one of my accountants. He threatened this particular one on at least 2 occasions.
From: Vince
To: Me

Like my old boss used to say when someone wants to fuck us we're going to reach out and fuck them. Good luck motherfucker.
Vince's abuse continued for months and he is still attempting to take me to court with absurd claims that keep getting rejected. Although I did report his behavior to the Police, for now I requested they don't proceed unless his behavior continues.
FREQUENTLY ASKED QUESTIONS
Q. What about The "Official-looking Documents"?
Mark publishes a few other documents that look official. Copies are below with my comments:
a. Email from Mark Howe (using fake name) to Vince Brandt
Mark referred Vince to a "private investigator" on Craigslist. In fact the "private investigator" was Mark himself, and the below email is what he sent to Vince. Mark created the email himself while pretending to be a private investigator: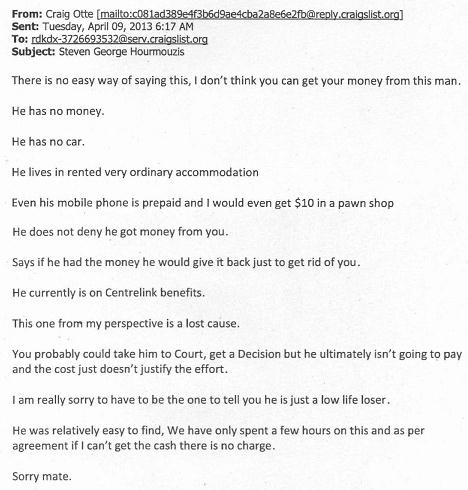 MY COMMENTS: These are the same rubbish claims Mark has made for years. There's absolutely no truth at all to them. Mark initially claimed on his website that he hired a private investigator who found I was broke and living with my parents next to a homeless hostel. If you don't believe he made these claims, I will gladly send you copies of his original websites. And if you really believe this utter nonsense, then God help you. Mark's claims over the years have been absurd and wild.
b. Vince's Email To VCAT
Below is Vince's email to VCAT (the area in the red box).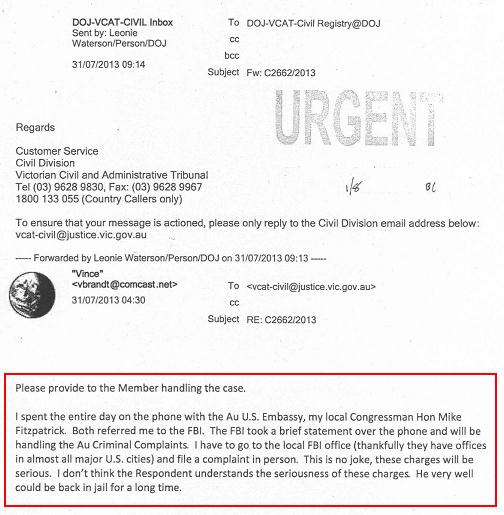 MY COMMENTS: Vince acted as if it was matter of national security. Do you really believe he spent the entire day on the phone with the US Embassy speaking with a Congressman? Do you really believe the FBI would be interested in a civil mediation case that has no relevance to criminal law? I'm the one who asked Vince to hire VCAT because he refused to stop swearing and threatening me. And why did he did this? Because he didn't understand basic instructions. His emails are all here for you to read.
The thing that's "official-looking" about it is it's marked "URGENT". Unfortunately I meet some strange characters, and Vince appeared delusional about many things. It was only by my honesty in the VCAT hearing that he received a refund, because he never actually used my system's software. But even after the hearing, he started other cases which were rejected without me even attending the hearing. See the document of his rejected hearing.
c. Vince's email to the Australian Embassy in the USA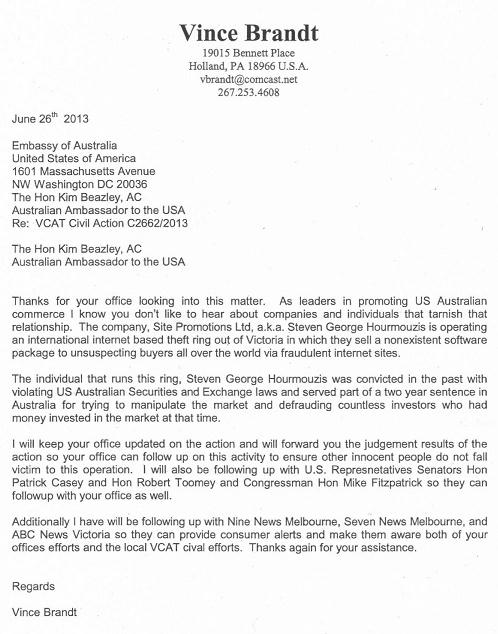 MY COMMENTS: Vince may as well emailed the President too. Remember that Vince's claim was NOT that my roulette system didn't work. His claim was that it "didn't exist" (read his letter above and see for yourself). Why would he think it didn't exist? Because he didn't properly read the instructions. I even emailed him the LOGIN details and web address. I even showed them in the VCAT hearing and insisted we log in to show Vince had no idea. Vince also refers to the Rentech case (explained here) which he has no idea about. As for his claims about TV shows, I insisted to Vince that he have the TV show producers to contact me so I can publicly demonstrate my roulette systems and computers. It would have been a fantastic opportunity to prove a point. I often do public demonstrations, but unfortunately not yet on live TV.
Q. Is it true in the hearing, I said I was nearly broke and on "government benefits" and couldn't afford to refund Vince?
NO. It's a 100% absolute and typical complete fabrication – from Mark Howe.
For some reason, Mark has made such claims about me for years. I assume the thought of me being successful upsets him. Mark's original claim was that I was "so poor that I lived in a cheap area, next to a homeless hostel, with my parents".
The fact is I'm quite wealthy. And I haven't lived with my parents for decades.
Also, my parents live in a very wealthy area. All properties in their estate are over 1 acre, in one of Melbourne's most expensive suburbs. They're all worth at least $1.6M each. Here's the property just behind my parent's house, worth about $3.6M: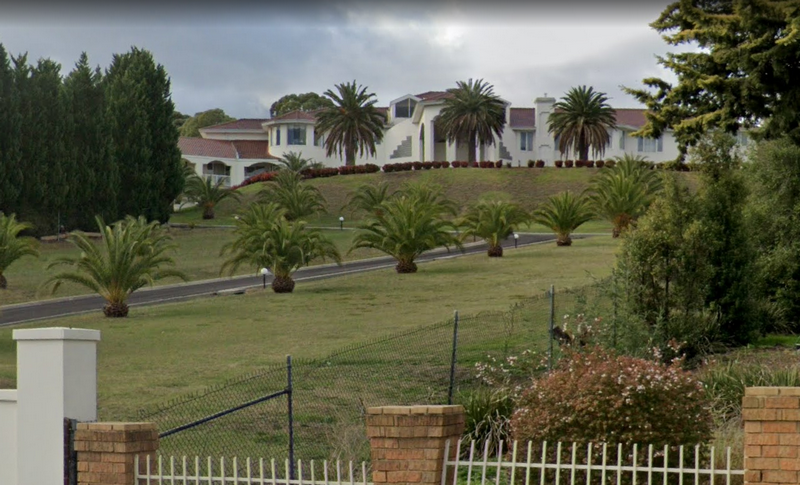 But Vince wasn't too bright, and actually believed Mark Howe's atrocious lies. This included when Mark referred Vince to a fake private investigator on Craigslist, who Vince then hired. The investigator was Mark himself, lying his ass off. That's the tip of the iceberg. Really, you wouldn't believe how atrocious and sick Mark's behavior is. But I'm trying to keep this website focused on important points.